PIAN DELLE MULAIE
on the border with Val di Chiana and Val d'Orcia
A rare gem which captures the very essence of the Tuscan countryside. Ideal for summer outdoor living and warm and snug in wintertime.
with its compact cluster of 3 magnificent farmhouses, rows of cypresses, ancient oak trees, olive groves, vineyards and arable fields, set in the tranquil beauty of a quintessentially Renaissance landscape.
The easy approach to Pian delle Mulaie enjoys exceptional privacy, across the privately owned fields and woods, whilst the location provides the convenience of quick access to the Autostrada del Sol motorway and the mainline train station, both 15 minutes away in Chiusi. Indeed Rome is less than two hours, whilst Siena and Florence are closer.
The small estate that comprises Pian delle Mulaie nestles between Palazzone and Piazze, within the ancient Tuscan commune of San Casciano dei Bagni, home to the famous thermal spa. Sitting on the border with Val d'Orcia and Val di Chiana, still with its original Roman baths, this historic village is 8 kms in one direction and the pretty village of Cetona is 10kms in the other. The combination of history, beauty and convenience is rare on a lofty hillside with sweeping views over the surrounding countryside towards Monte Cetona looming into the sky in West. To the East, the views across Val di Chiana show a vista of Umbrian hills, crowned by Citta della Pieve, whence at dawn the sun rises in particular beauty when burning out a wispy veil of mist and flooding the valley with light.
The 14 hectares of land that make up the estate include two olive groves (with about 150 productive trees: up to 350 litres of olive oil x annum);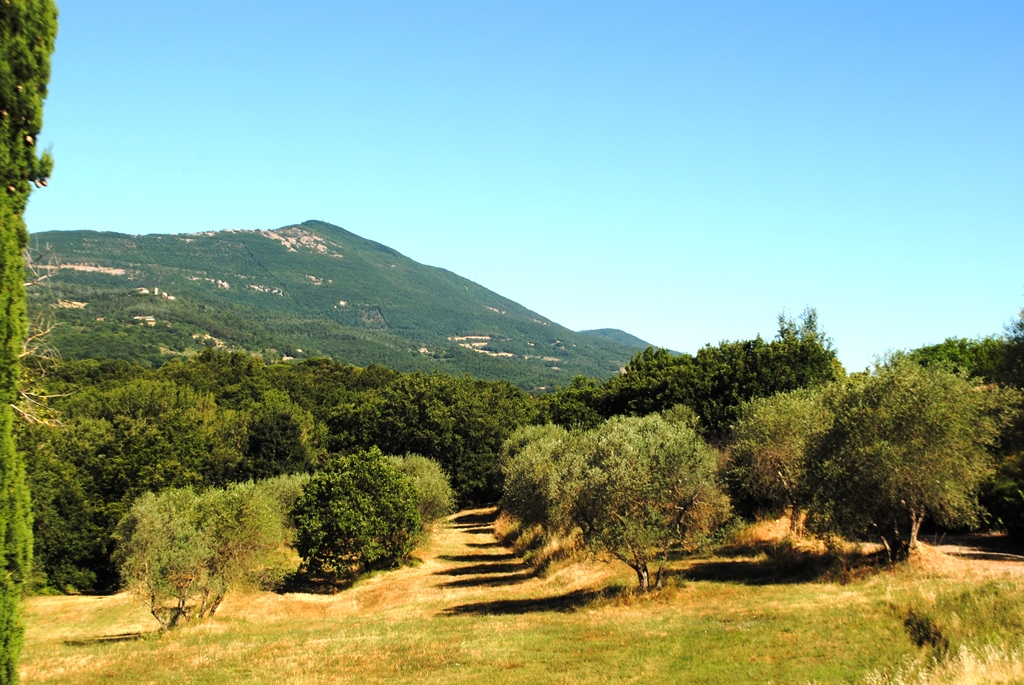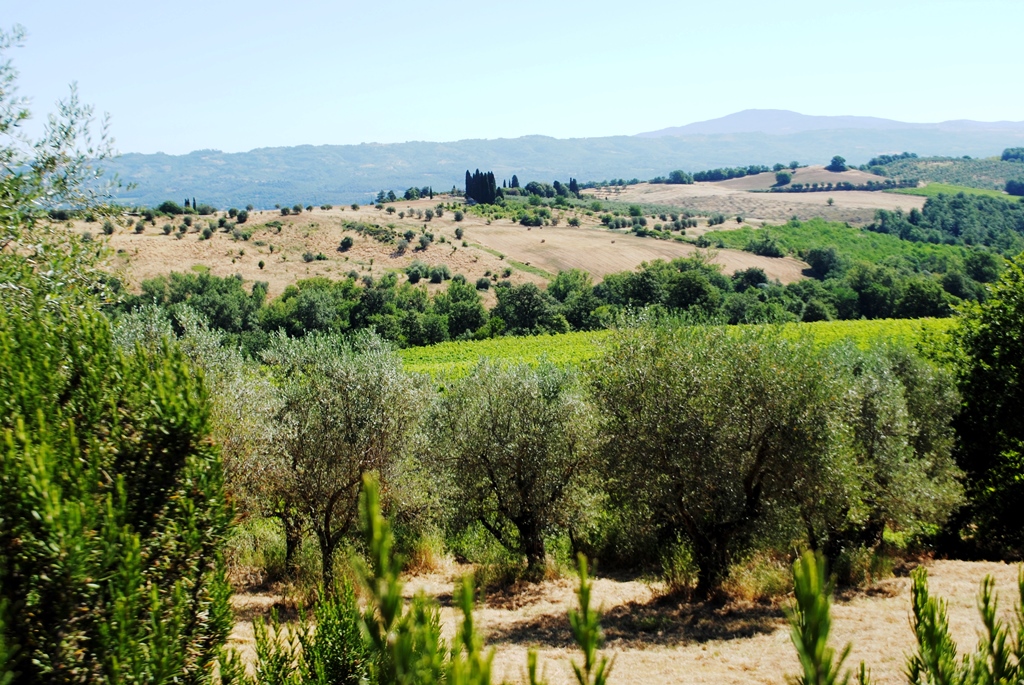 two vineyards, one has ca. 600 plants of Merlot DOC producing 400 bottles of red wine Merlot per annum, and another with the concession for planting an additional 5000 plants fro Chianti DOC ,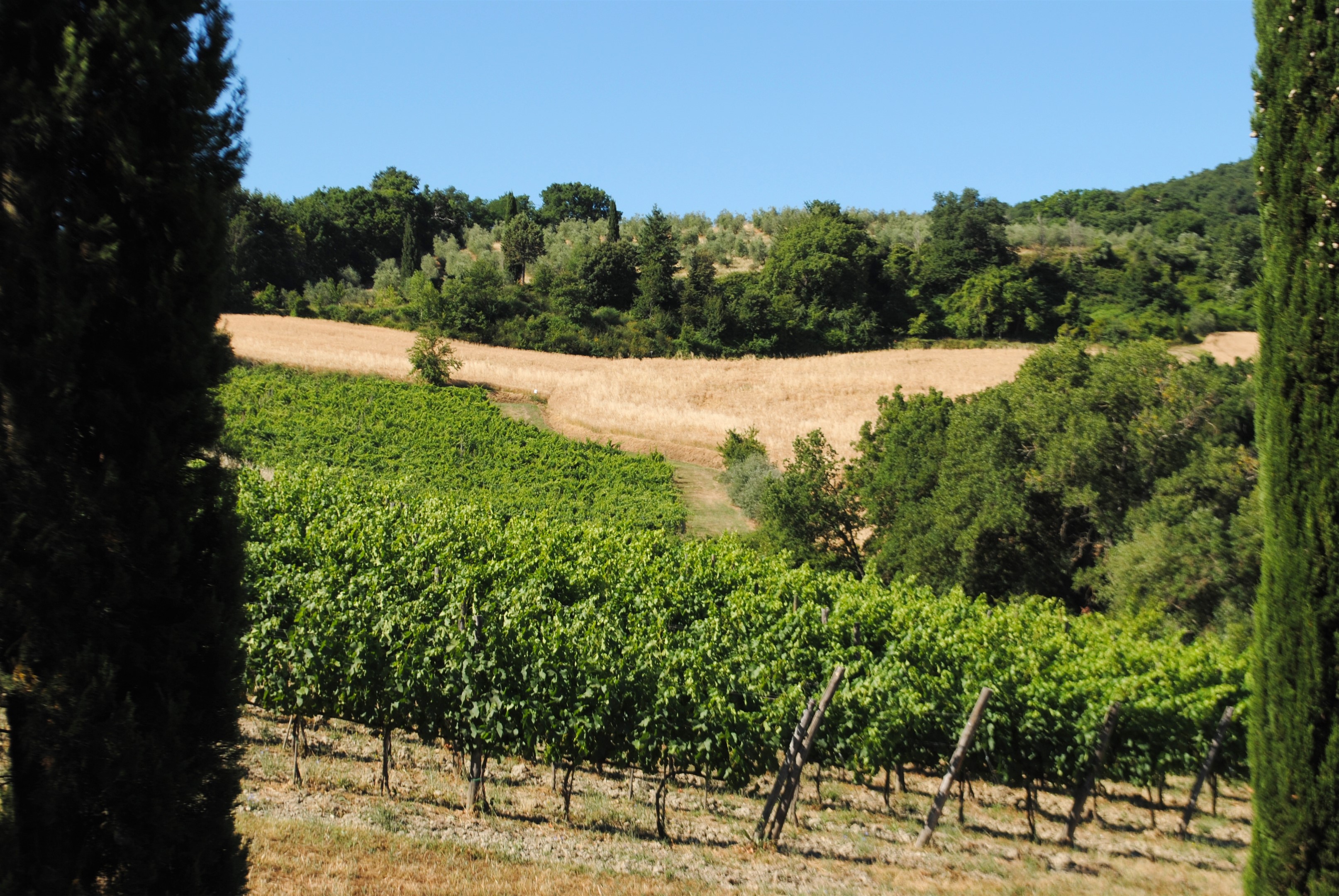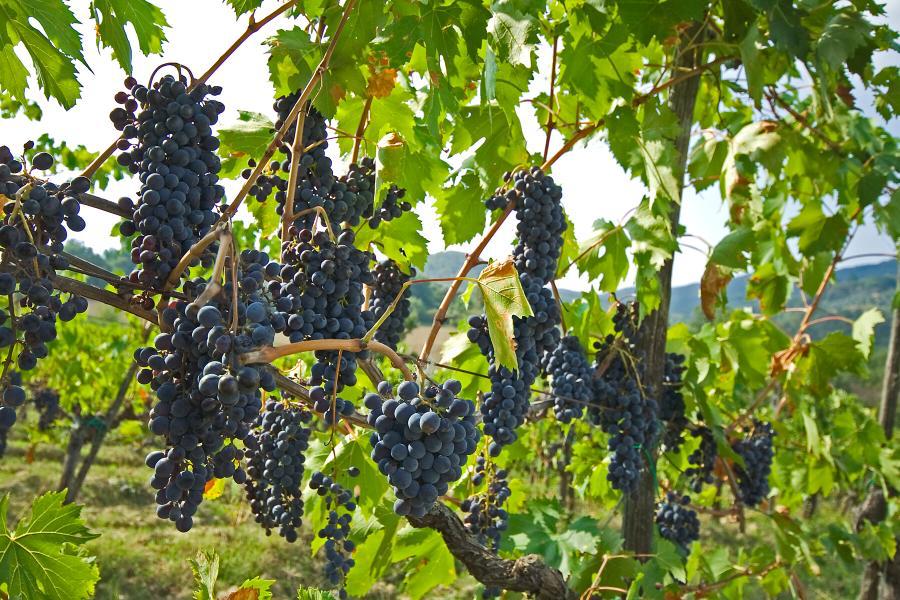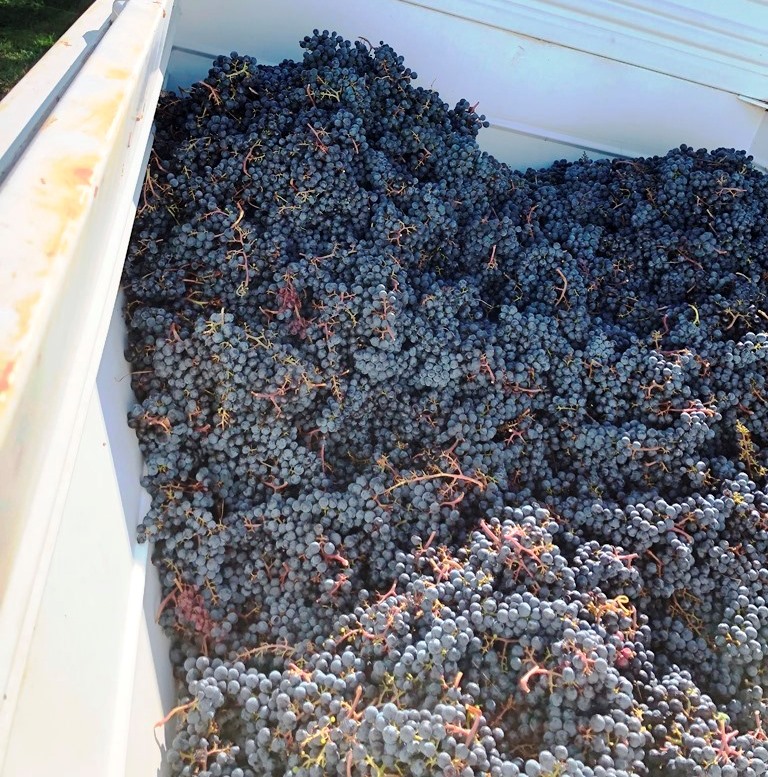 two arable fields; extensive woodland and enjoyable alongside stream walks (oak trees last harvest was in 2006); mixed woodland plantings and shrubs; fruit trees and fruit orchard together with a productive vegetable and herb kitchen garden.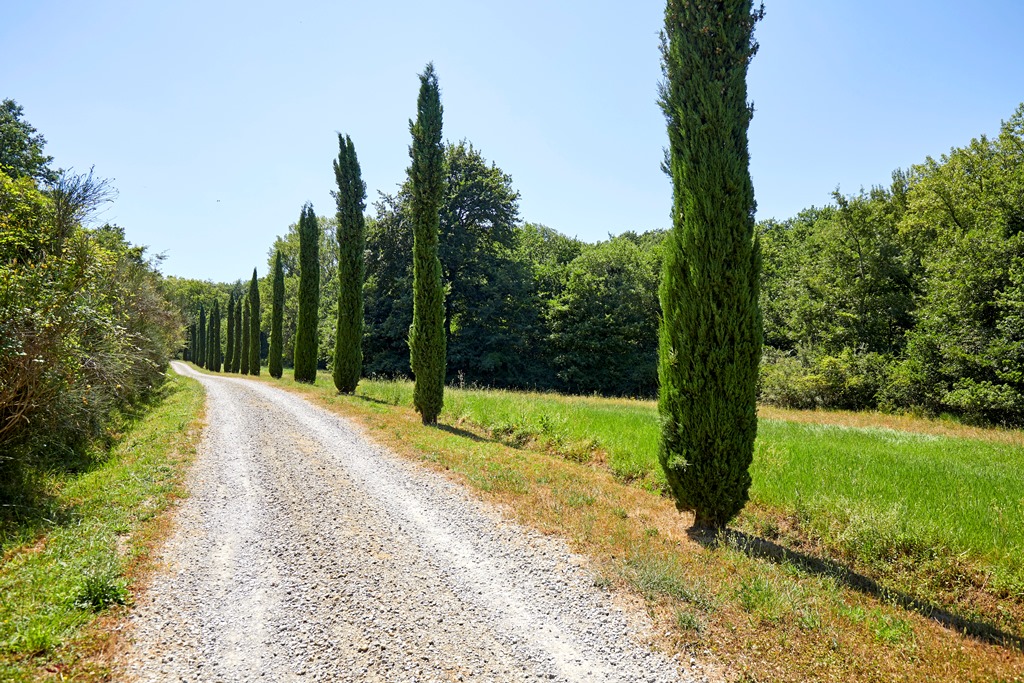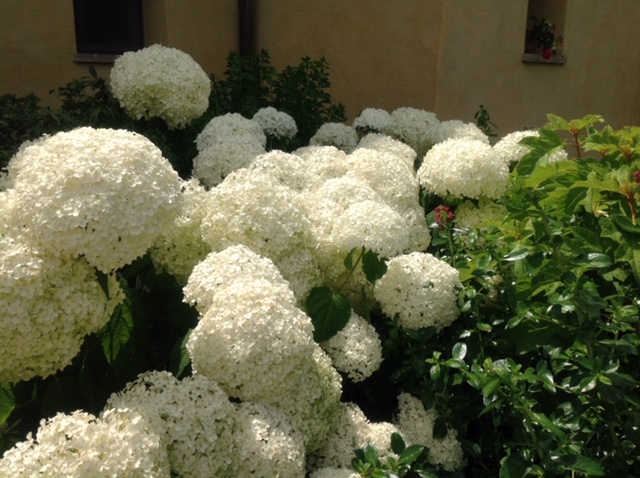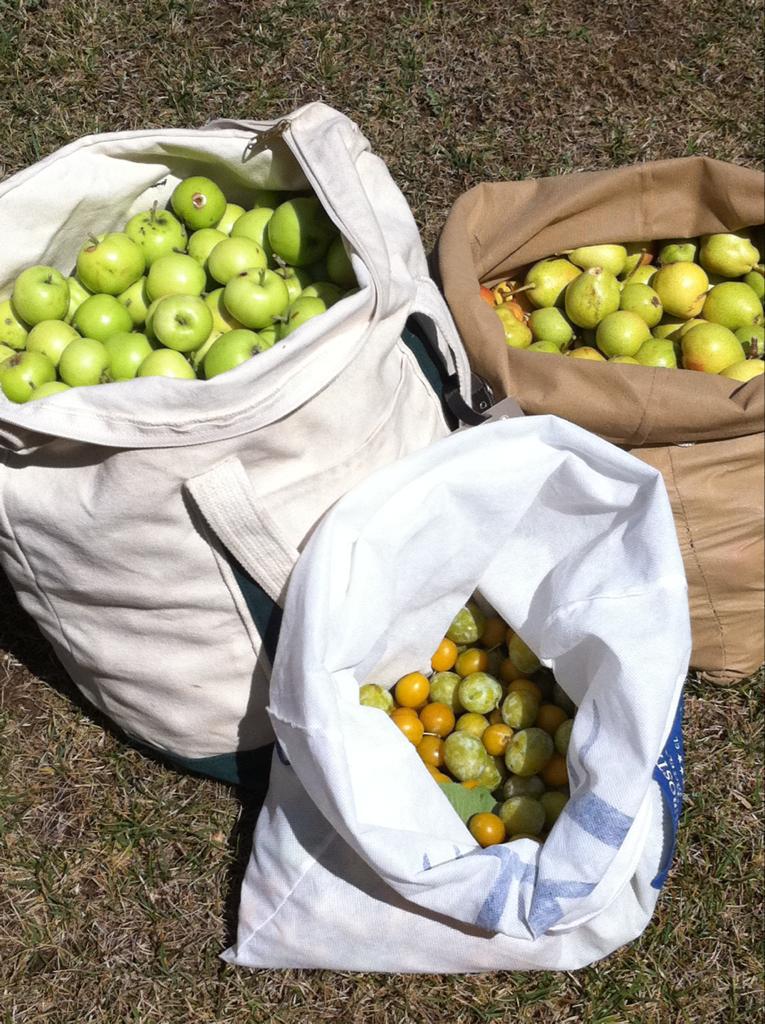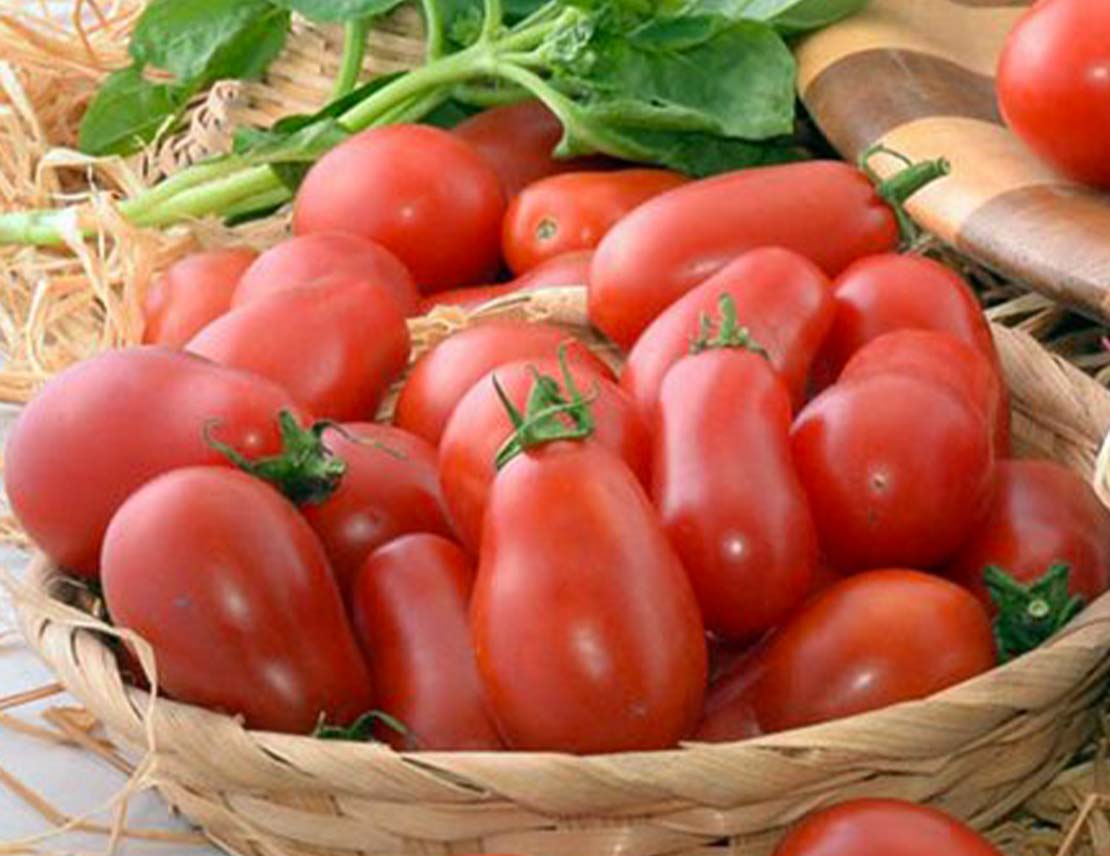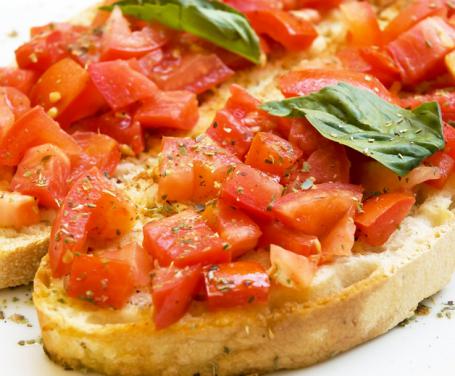 All three houses, elevated above the two valleys on each side, are set within lawns and flower beds, surrounded by lavender filled slopes and rosemary plants. There are wisteria clad patios and pergolas with the houses offering plenty of private shaded areas. The property has two wells and 30 kwh of energy.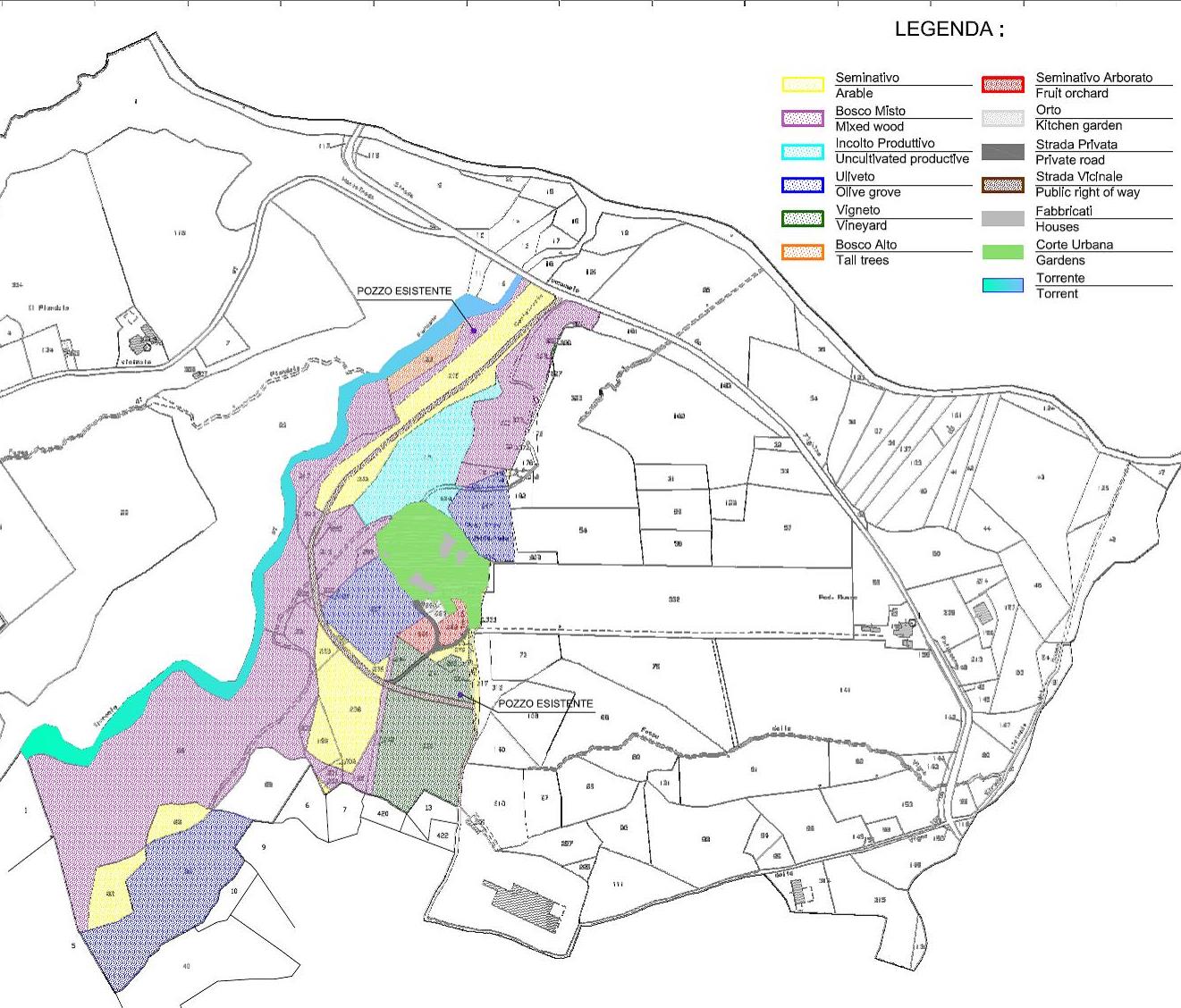 The generous swimming pool (14m x 7m), not far from the houses has a terracotta tiles border. At the west end there is a pool house with bathroom, shower and changing facilities and a brick barbecue under the portico affording a comfortable space during hot summer days. There is also a concealed plant room nearby.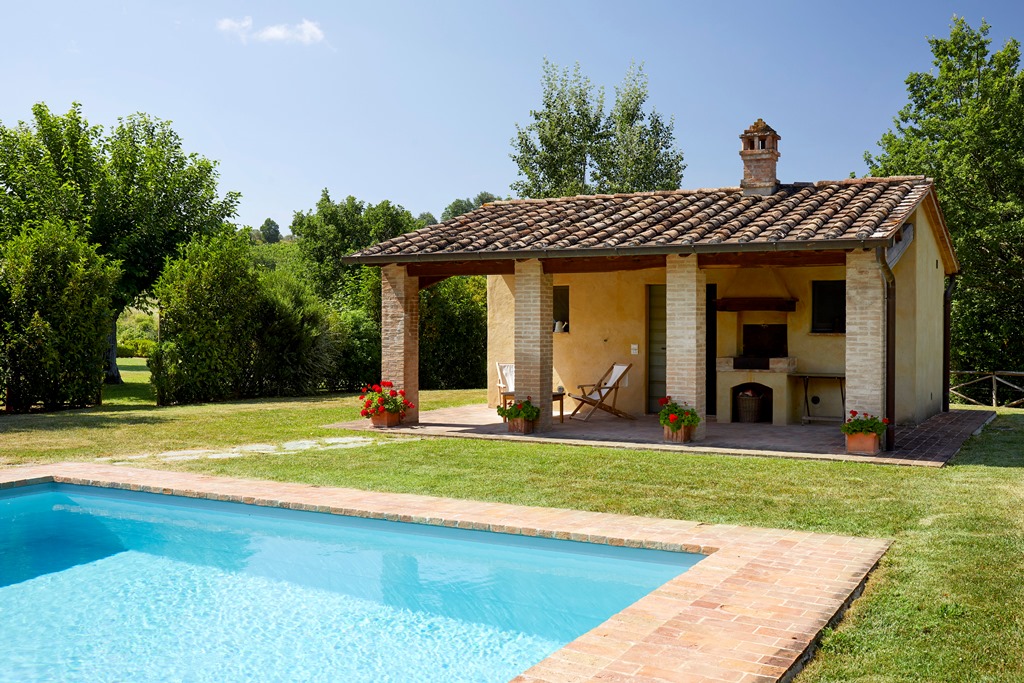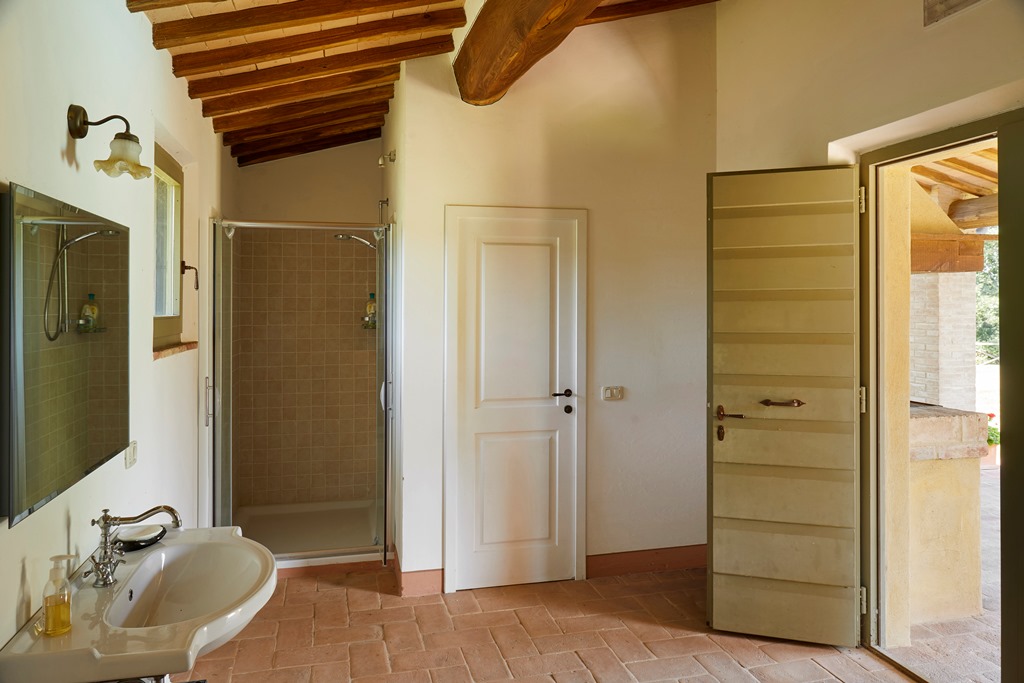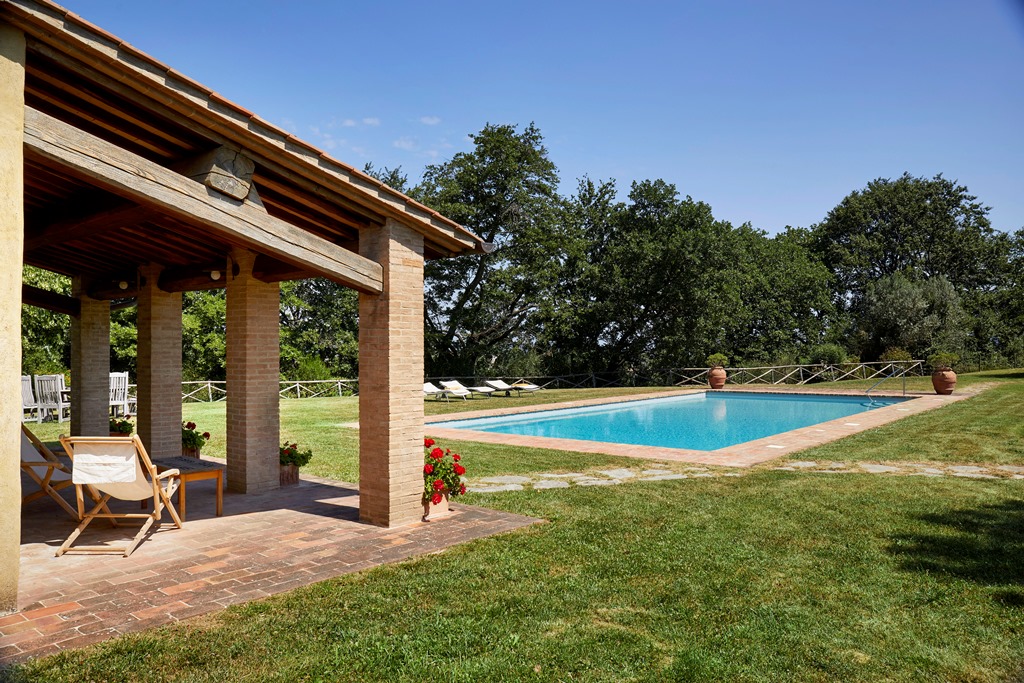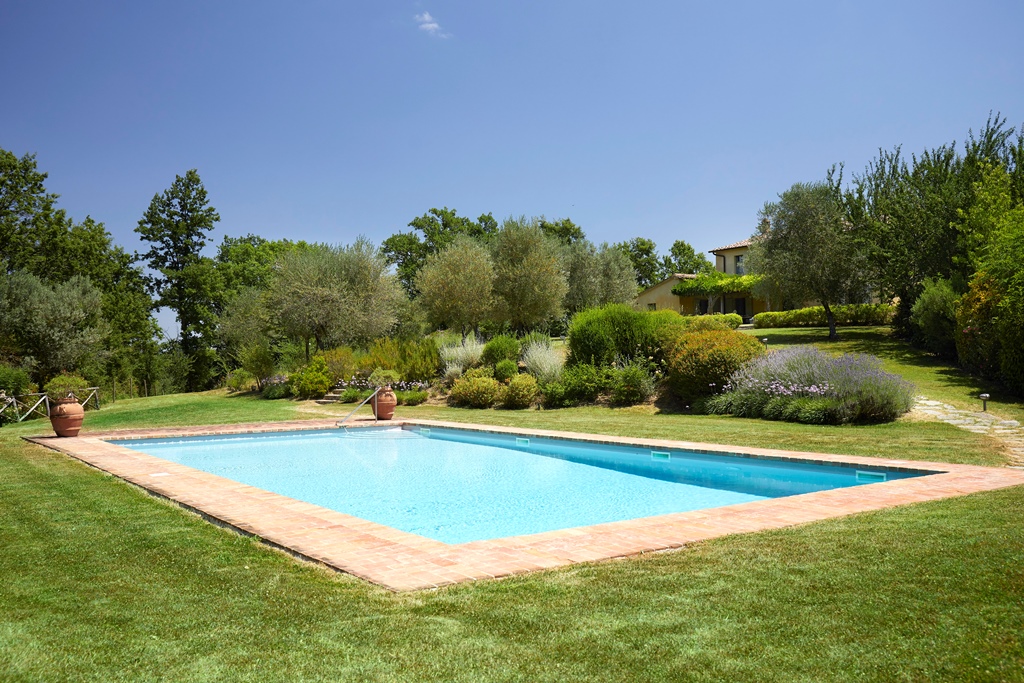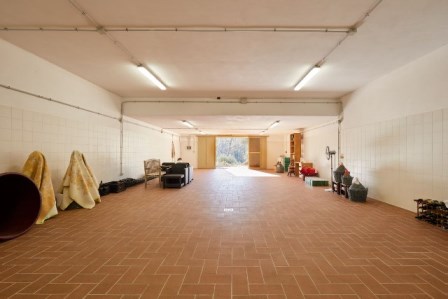 Below the large double garage with its ample storage space, adjoining Casanuova is a (80 m2) spacious little used cantina providing an easy opportunity for those with a dream, to produce their own estate wine and olive oil.
After following the long drive up to Pian delle Mulaie electronic gates are reached providing secure access to the houses, private areas and the cantina, visually controlled from all three houses.
Two of the houses were totally restructured more than a decade ago, whilst the biggest, which is new was finished in 2010. It too matches in harmony the careful restoration of the original farmhouse (Il Podere) and agricultural storage building (La Casetta).The building materials were chosen with painstaking care and a perfect synergy was achieved between new technologies and authentic respect for the past. The result is three elegant, comfortable and extremely functional properties.
CASANUOVA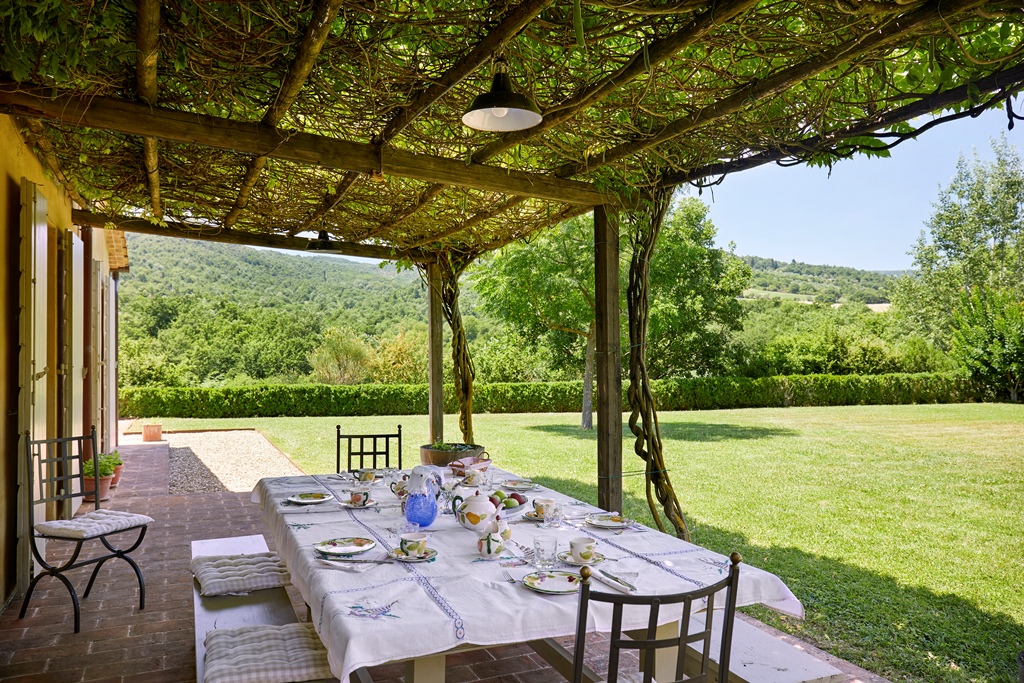 a 563sqm property consists of: Large hall, with a guest cloakroom and shower. A magnificent wooden door separates the hall from the elegant lounge with its stone fireplace and travertino marble floor. Ahead, two French doors open onto a spacious wisteria clad patio, a formal Italian rose garden, with vistas beyond into the private valley and woods, and the hills on the horizon above. From the lounge a wide and beautiful travertino staircase leads to the floor above.
Off the lounge to the left is a large study, bathed by sunlight streaming in through a window and French doors with small back stairs to two bedrooms above. Behind is a further small study area and French doors, with a concealed door which gives internal access to the double garage.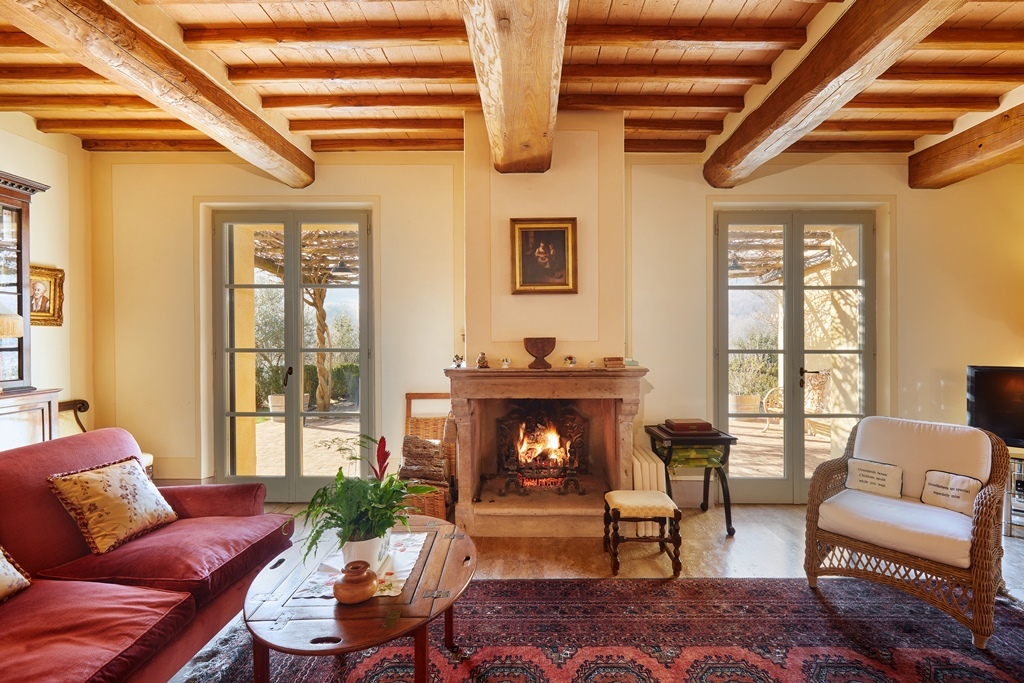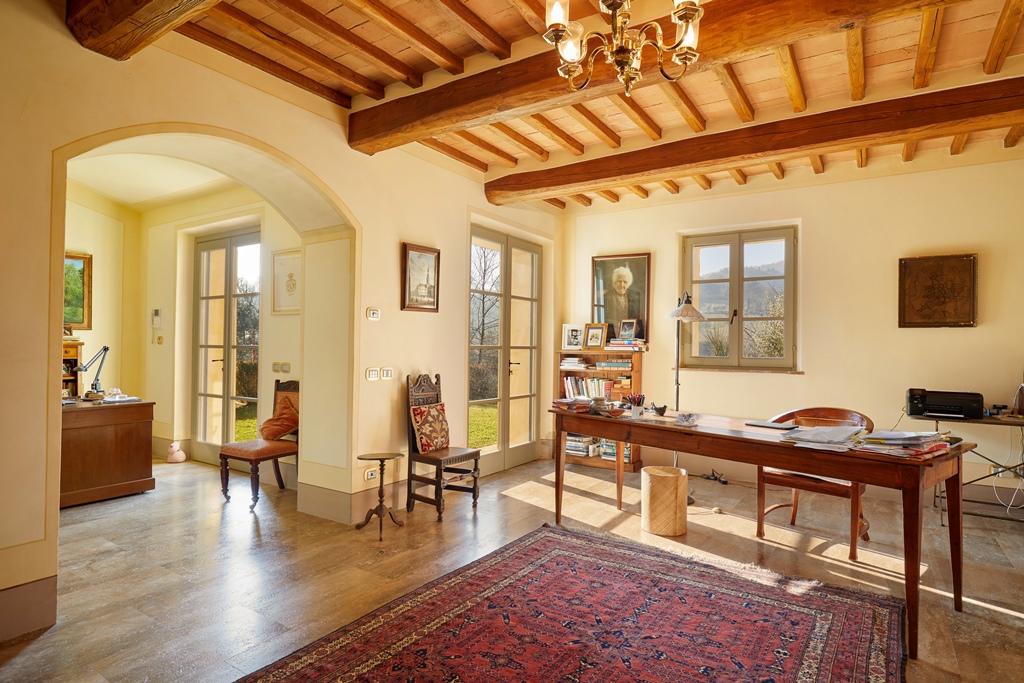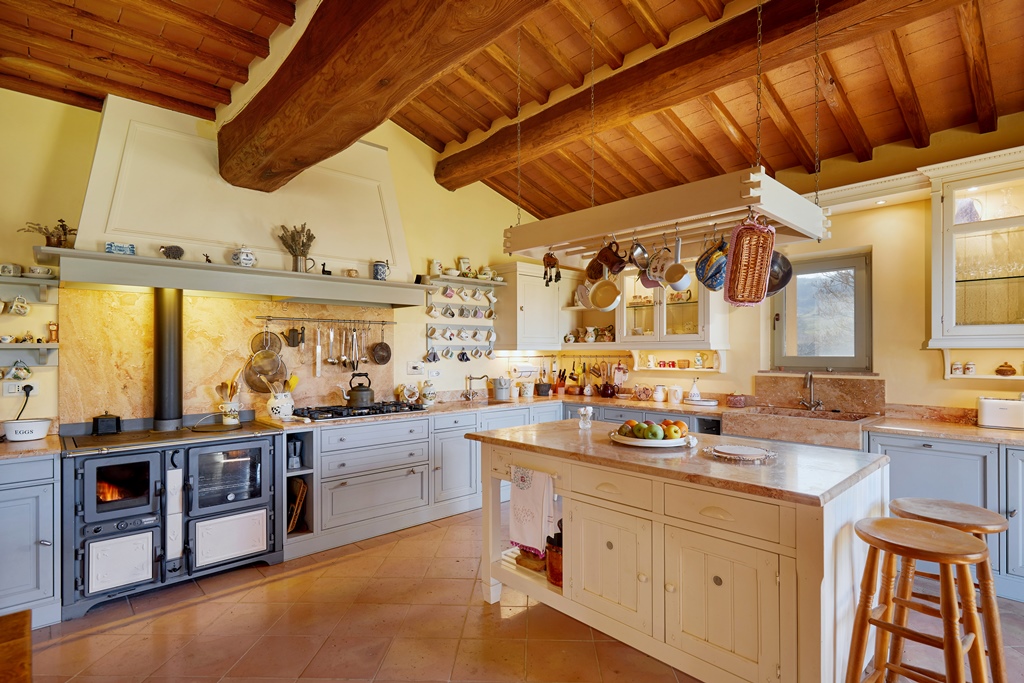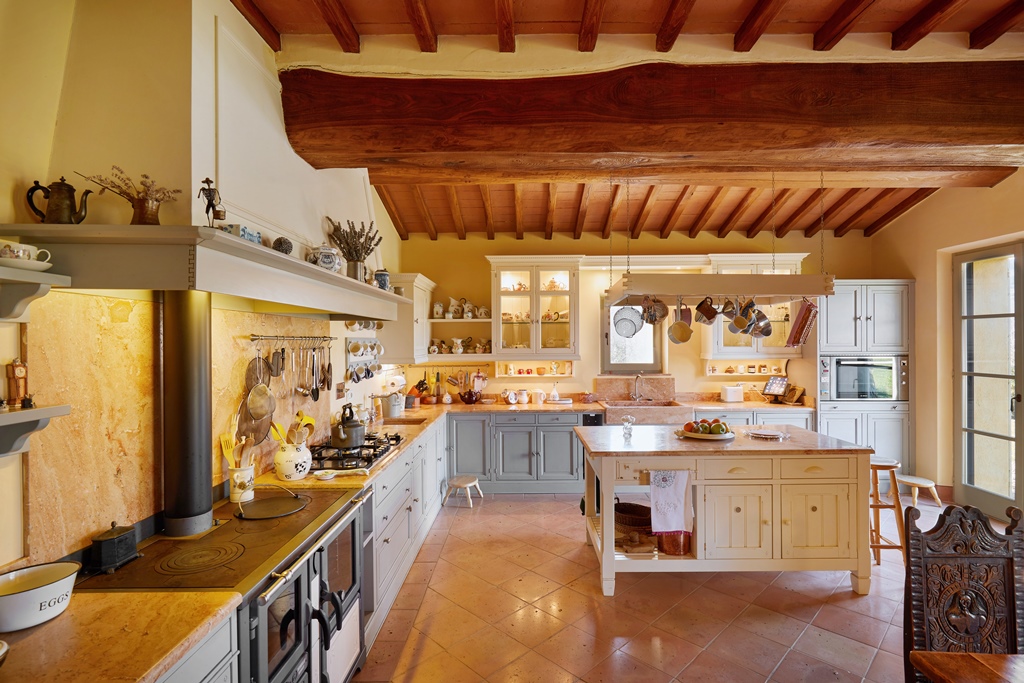 Off the lounge to the right the handsome and welcoming farmhouse style kitchen is well equipped, with the island and work tops all in travertino, and also a wood burning stove. At one end there is a dining area and ' family' sitting or activities area, flanked by a large, raised fireplace. There are three French doors to the garden and outside dining area, under a white wisteria covered patio; perfect for sitting out, for sharing meals with family and friends, or enjoying a view of Monte Cetona and the rolling countryside; and even occasionally with spectacular sunsets. A door at one end leads to into a generous utility room, with a separate toilet and linen store cupboard.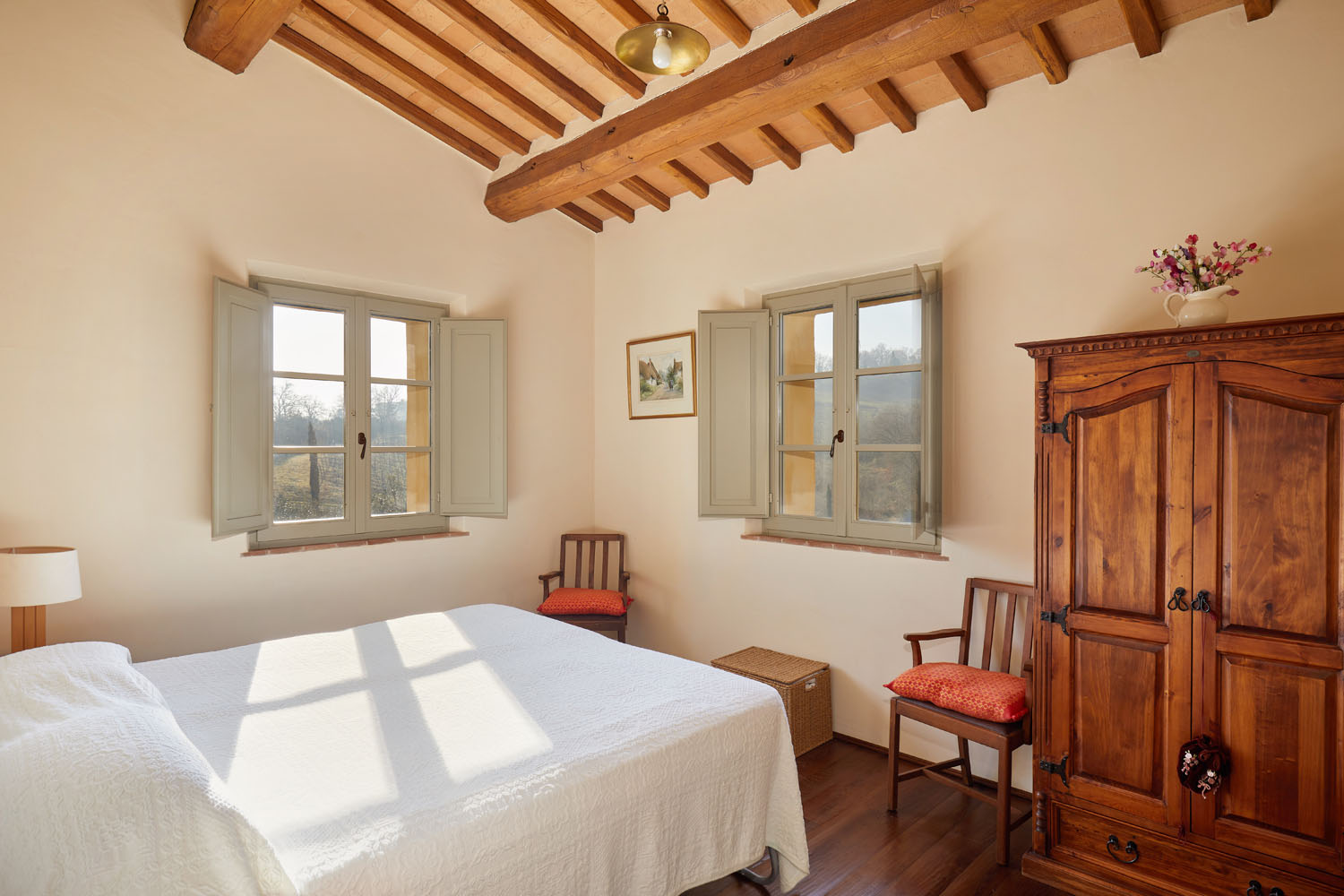 On the first floor a spacious landing opens onto three of the bedrooms. The first of these is the impressive double aspect master bedroom, with four windows with views across the gardens and open countryside, an en suite bathroom, with shower and bathtub, and a dressing room. The other two bedrooms also have their own en suite bathrooms. In addition, above the study area with independent access there are two additional bedrooms which share a bathroom.
The landing and all the five bedrooms have beautiful chestnut floors. All the ceilings are exposed wooden beams, typical of Tuscan farmhouses in this part of Italy.
There is a plant room for this house with its hot water tank, fed by the solar panels, the wood-burning kitchen stove and gas fired boiler on the ground floor. There is underfloor heating throughout Casanuova.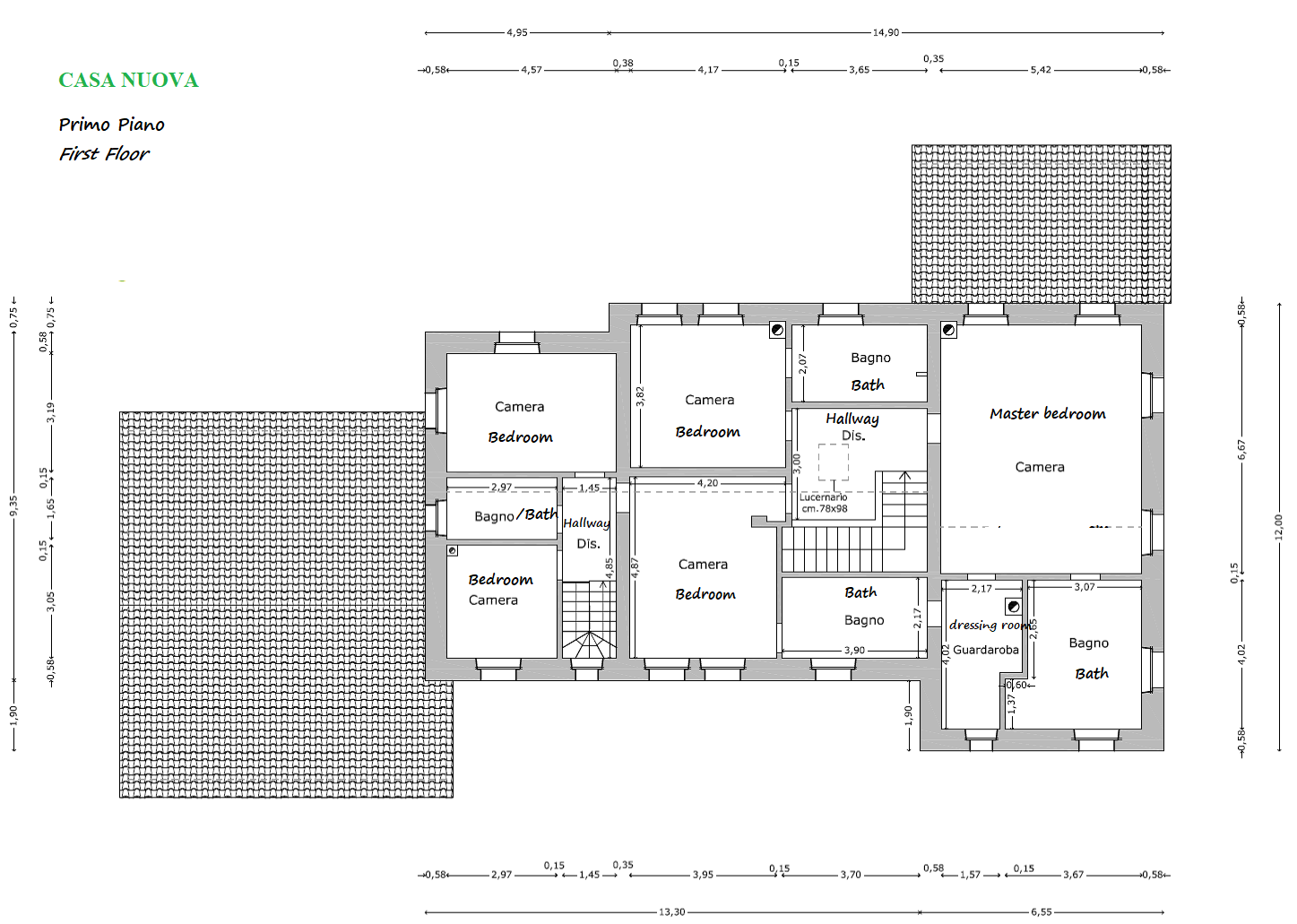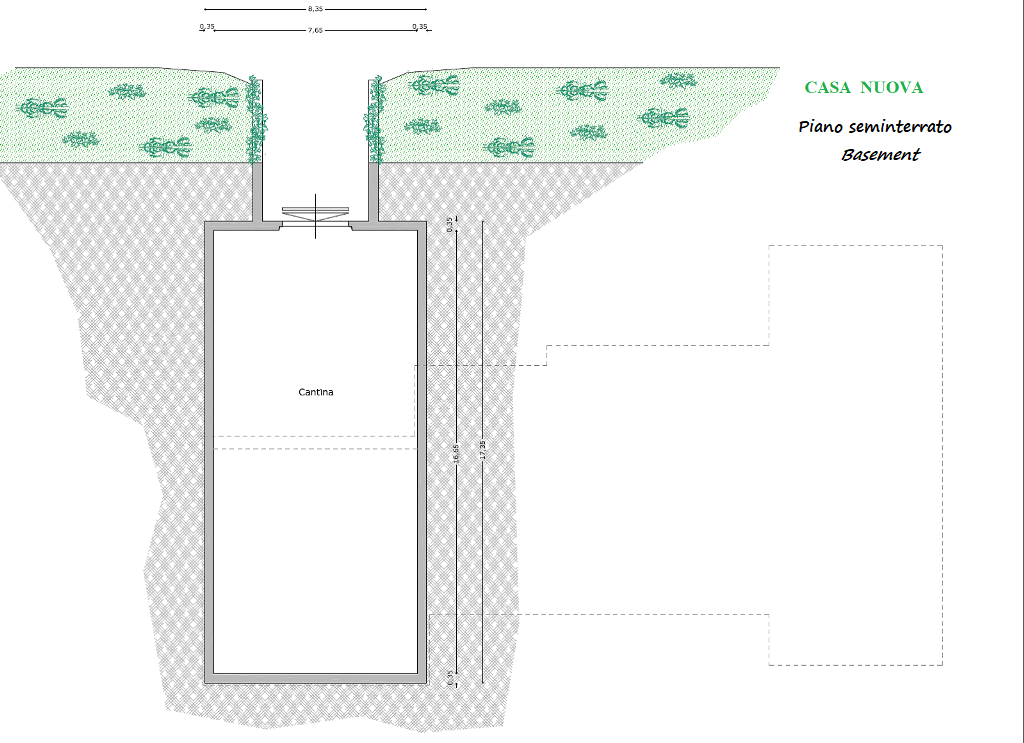 IL PODERE
a 421 sqm house, consists of: Large entrance hall with a vestibule, visitors bathroom and linen store room.
A spacious and beautiful lounge area with a traditional stone fireplace, and adjoining dining room which opens onto a large wisteria clad patio, with reclaimed terracotta tiles where meals can be eaten al fresco.
At one end of the dining room is a striking wood-burning stove and door into a study with French doors opening onto the large patio.
Leading off the dining room through double doors is the spacious kitchen, together with a breakfast room with its own raised corner fireplace and large utility/laundry room with store and toilet.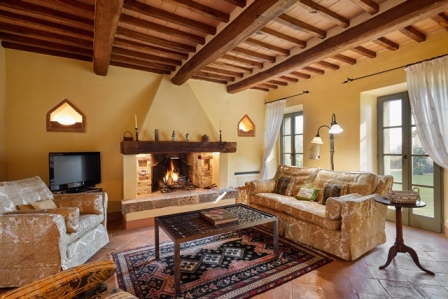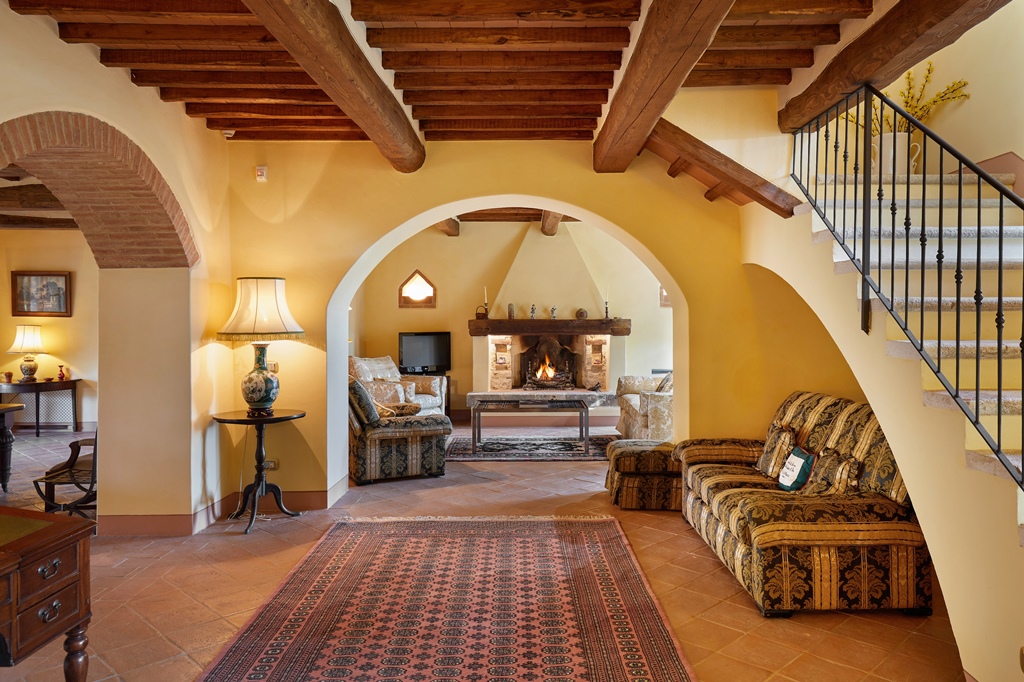 The kitchen is beautifully appointed with travertino working areas, and an island.
From the lounge a handsome reclaimed white marble staircase leads to the first floor. Here the landing opens onto a rebuilt, farmhouse style fireplace flanked by two wooden benches.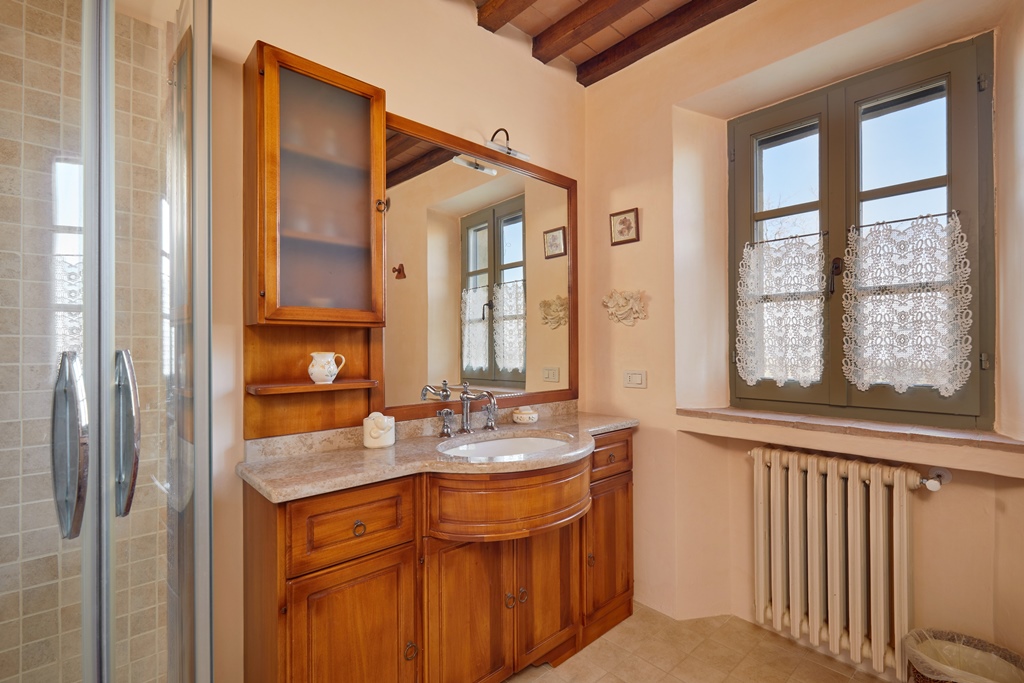 To the left of the fireplace is the door to a handsome, spacious master bedroom with its own bathroom and dressing room. A further two bedrooms each en suite, open onto the landing. Off the landing another door leads to the original, fully restored outside staircase, an integral part of the original farmhouse, and beneath this staircase is an outside store.
The ground floor rooms are covered with traditional terracotta tiles and the first floor rooms and landing are in beautiful chestnut. All the ceilings are exposed beams.
Outside, Il Podere has an rebuilt domed bread and pizza oven and chimney under its own covered area. The two plant rooms are accessed via external doors. There is seasonal air conditioning and central heating throughout Il Podere.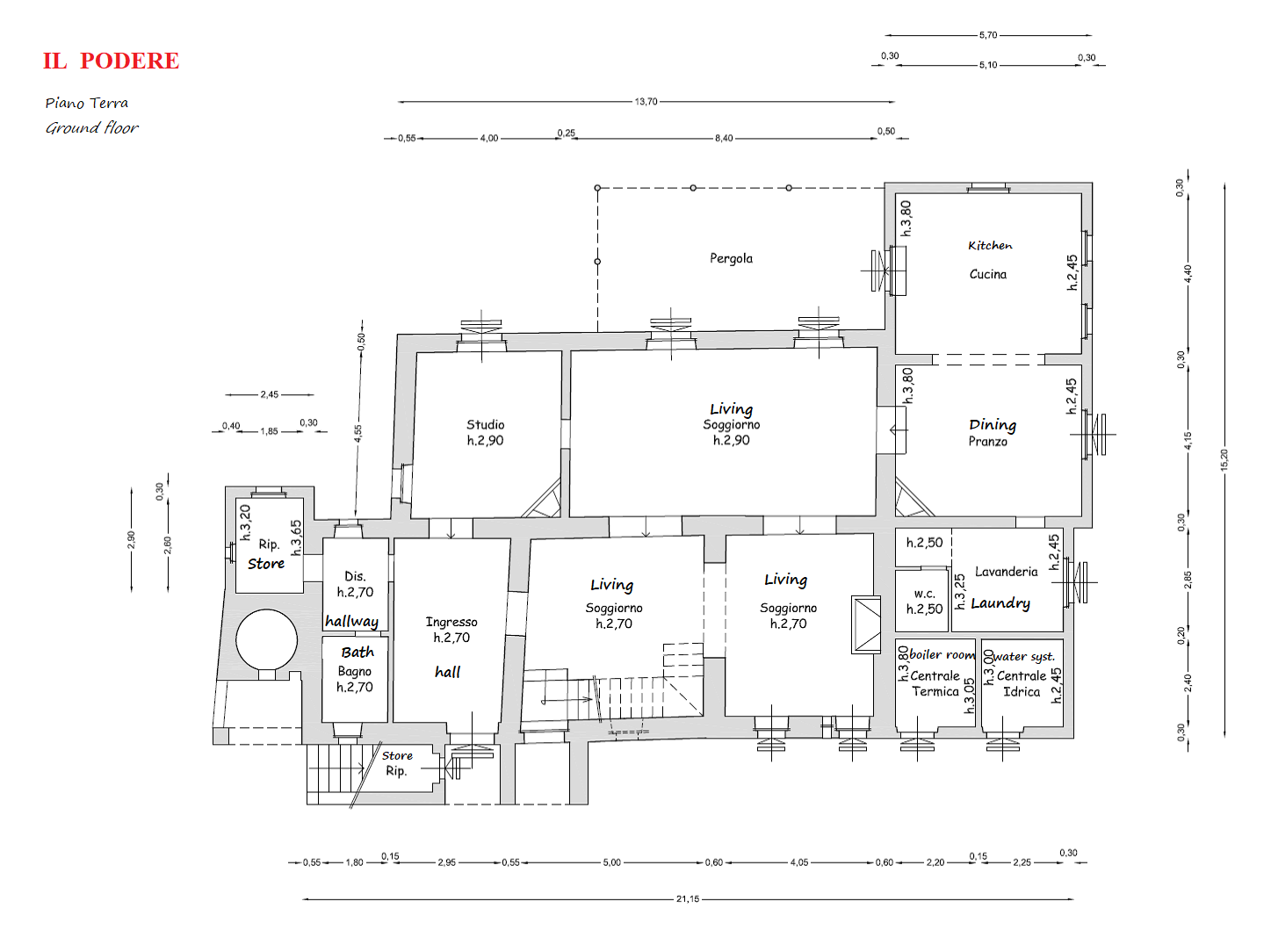 LA CASETTA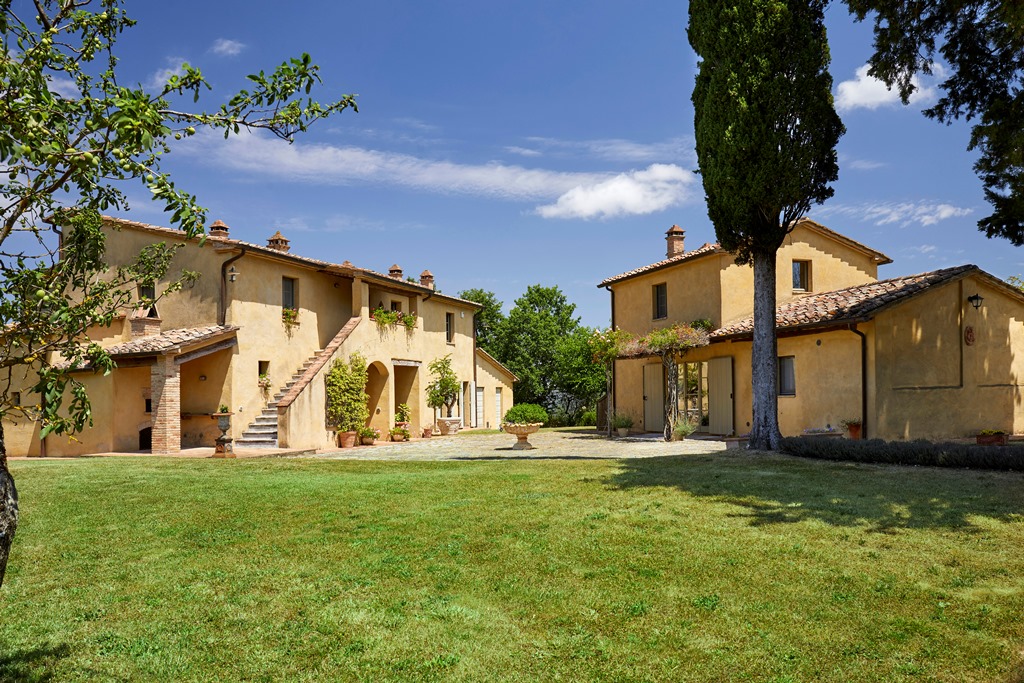 a 146 sqm house consists of: On the ground floor a living room with its own open fireplace and archway through to the full sized kitchen and dining area, with French doors open onto a wisteria and rose clad patio, perfect for magical intimate breakfasts and al fresco meals as the sun rises out of the distant Umbrian Appennines across quintessential Tuscan countryside. From the living room a door opens onto a small lobby with a double bedroom with its own en suite bathroom.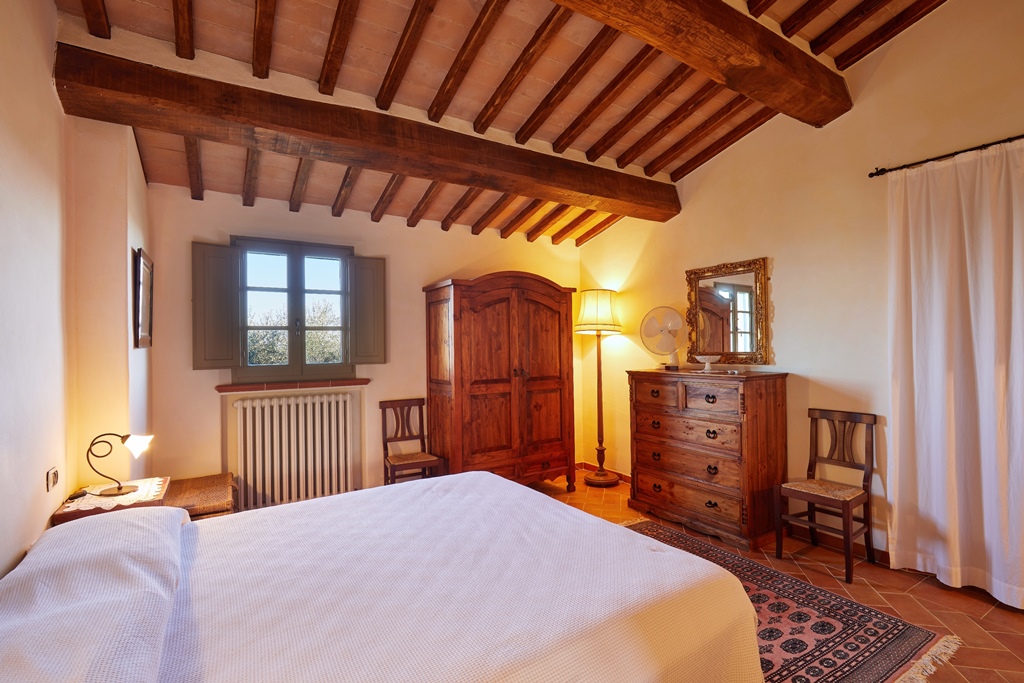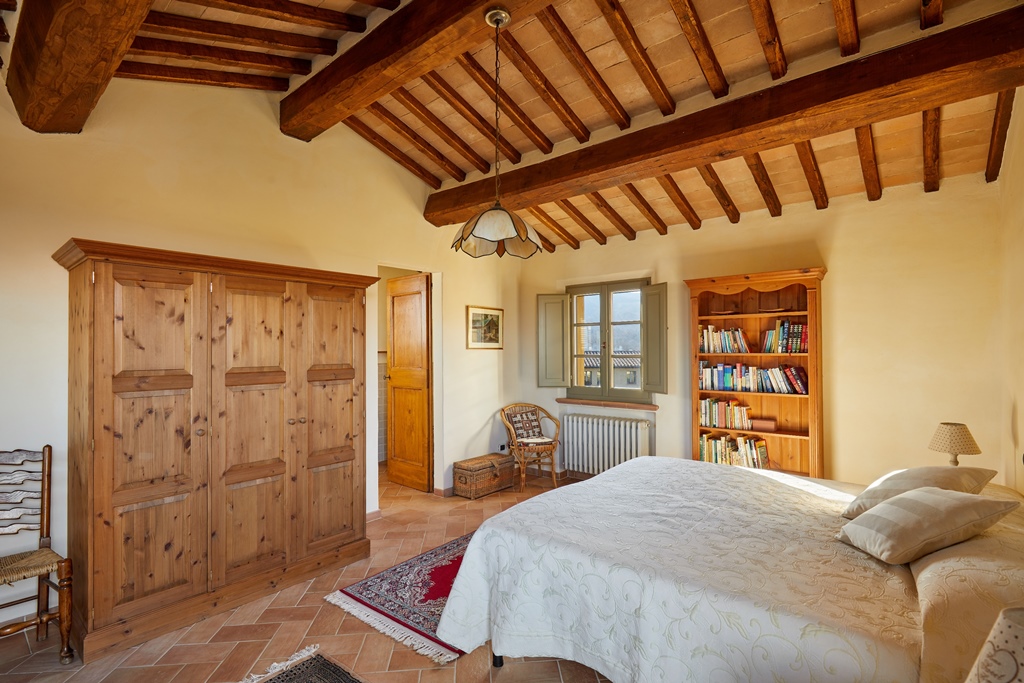 An external staircase leads to the upstairs double bedroom with its own en suite bathroom and small dressing room.
In La Casetta the floors are finished in terracotta tiles and all the ceilings have exposed wooden beams. La Casetta has central heating.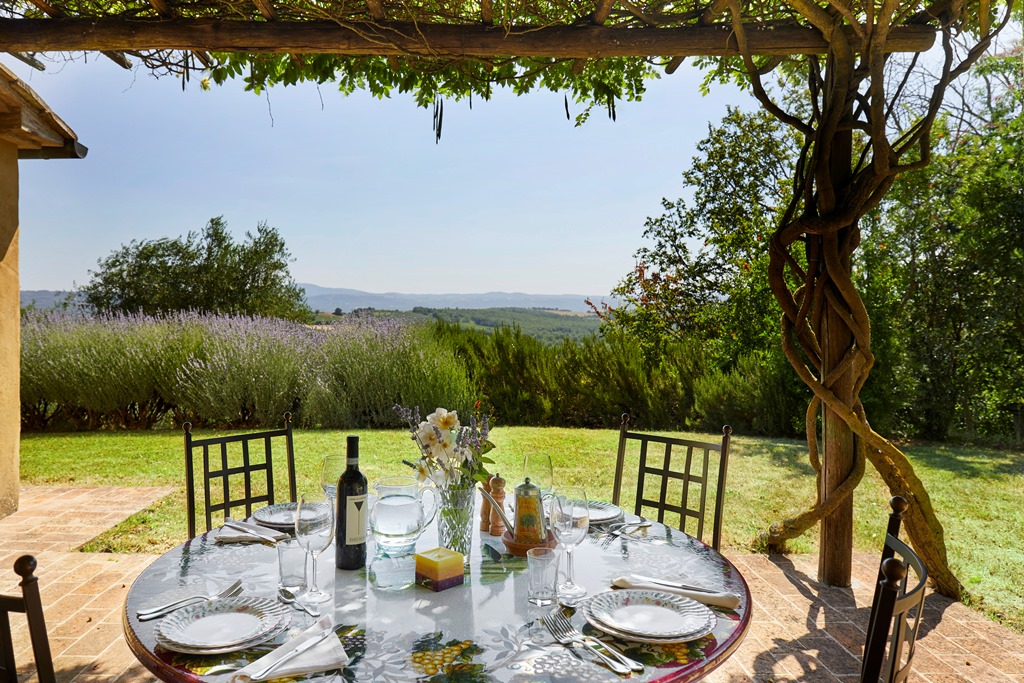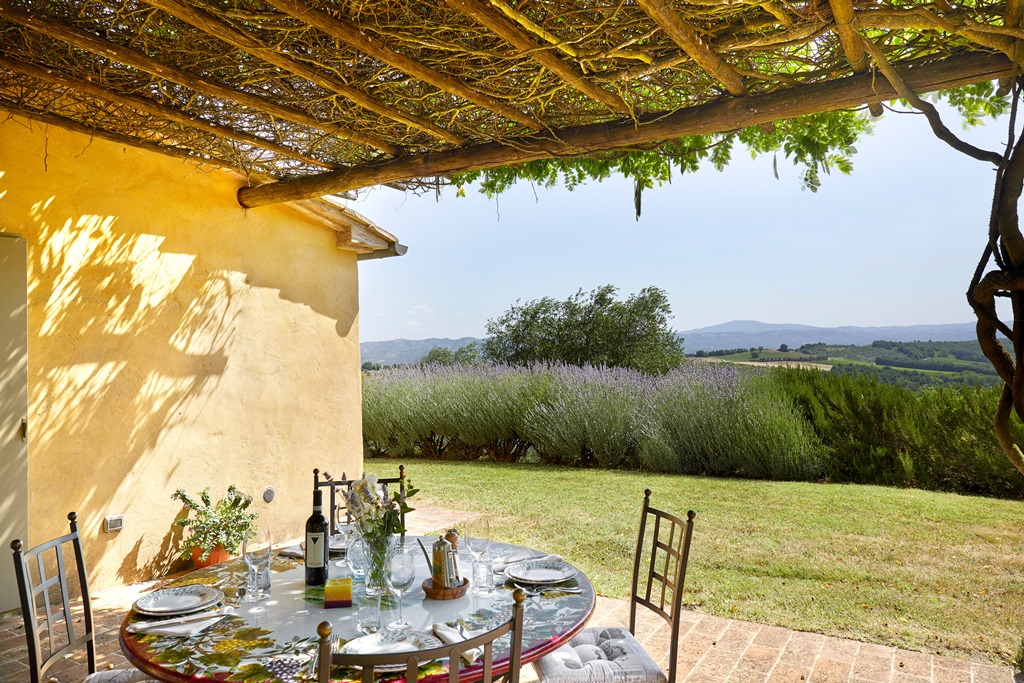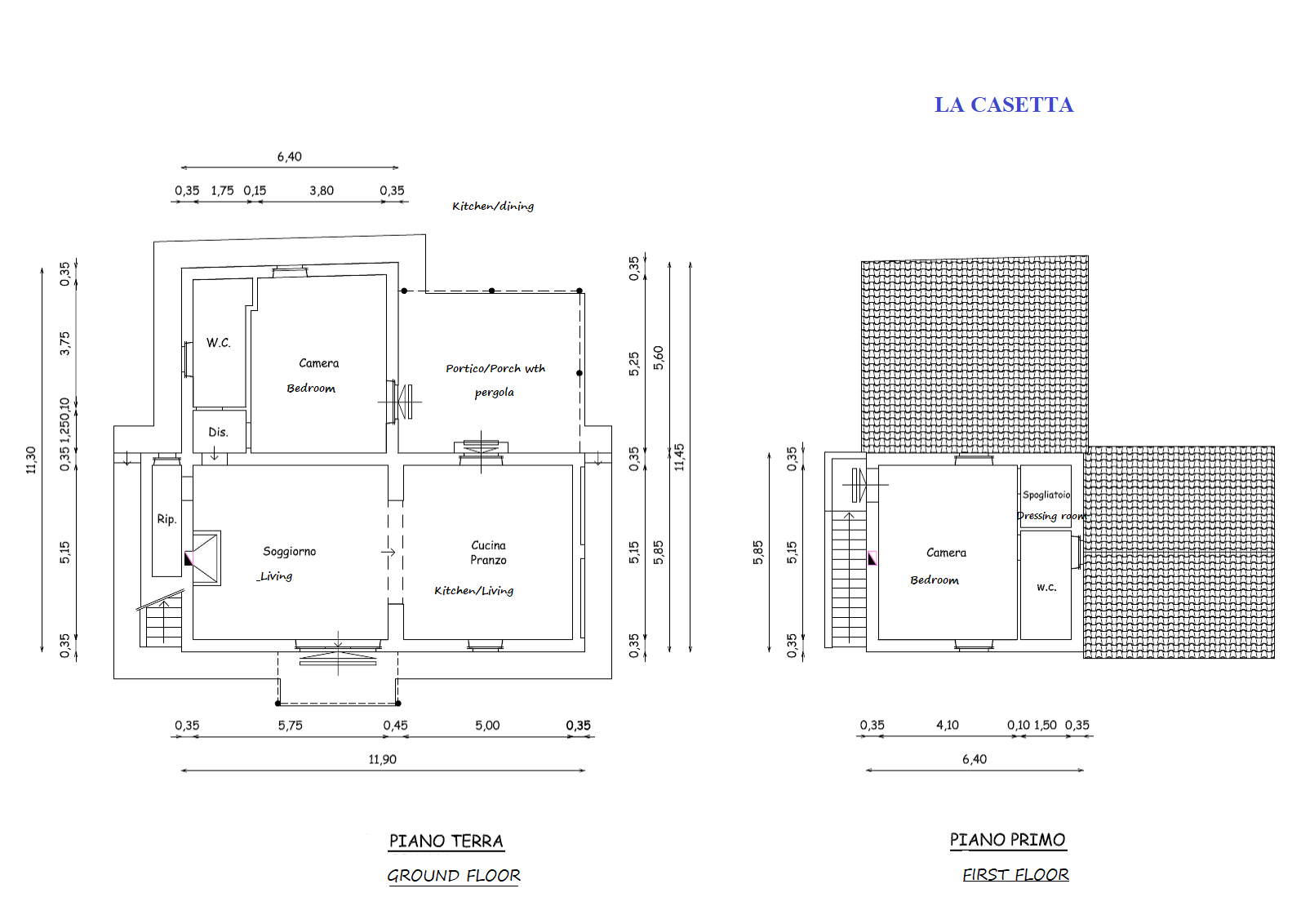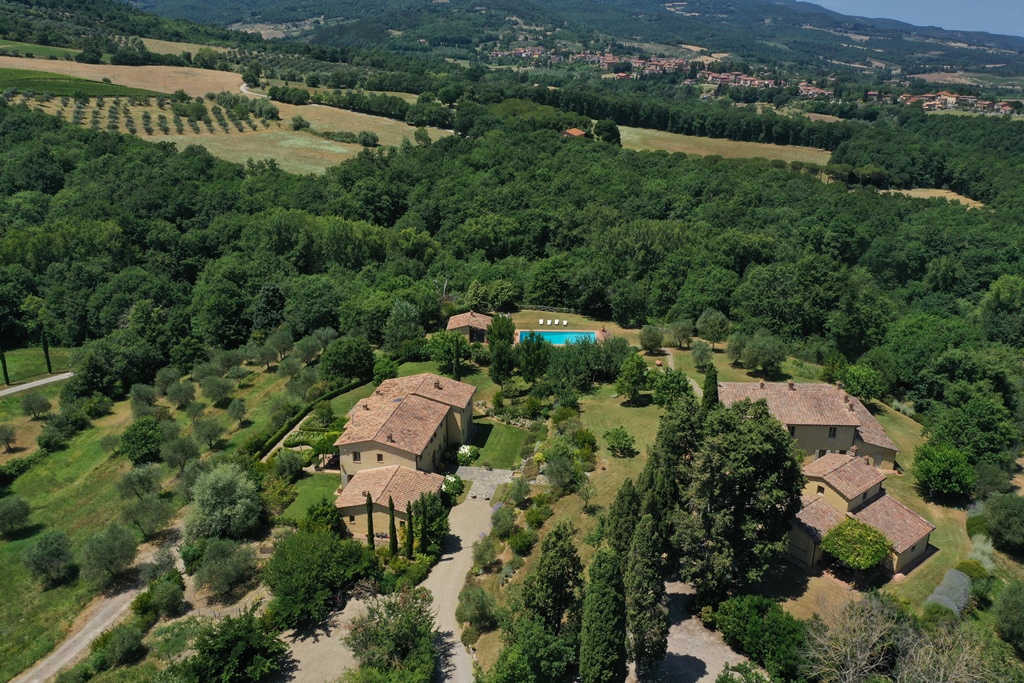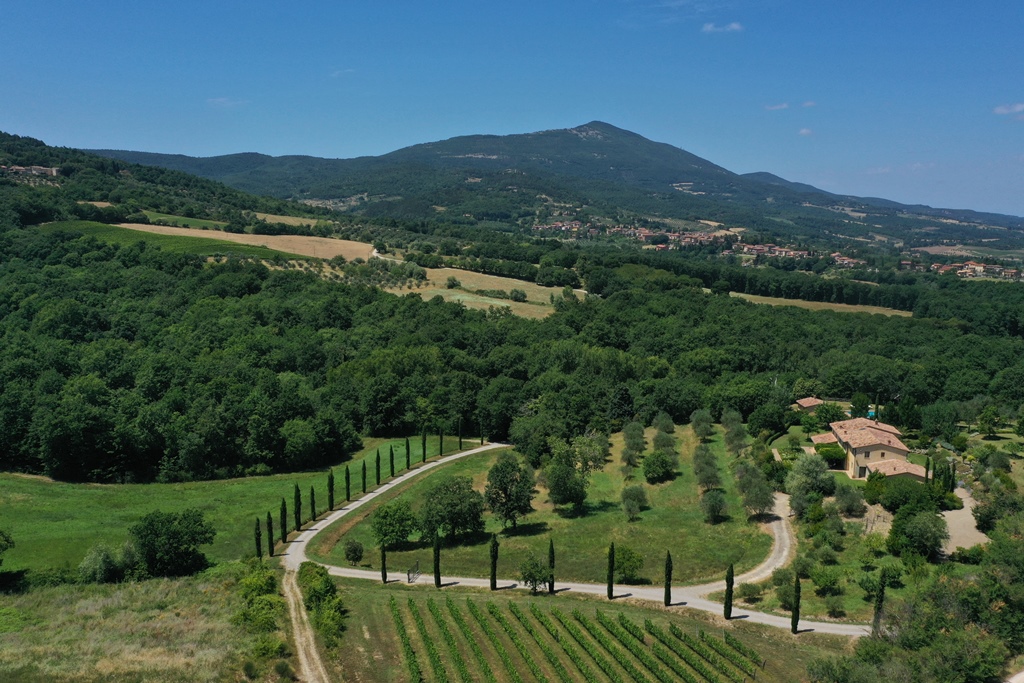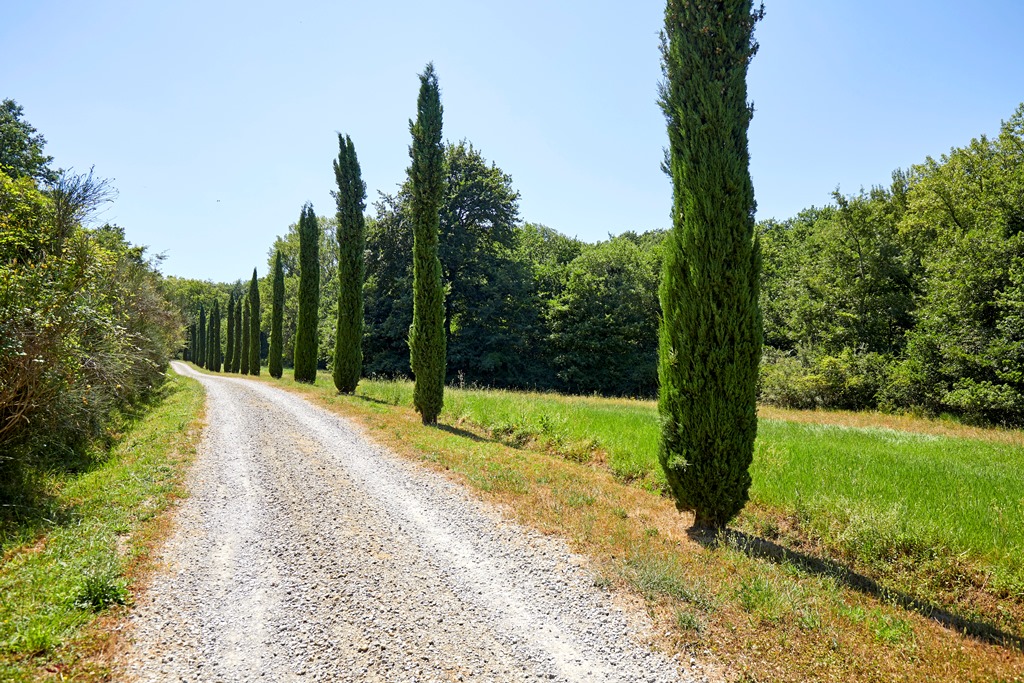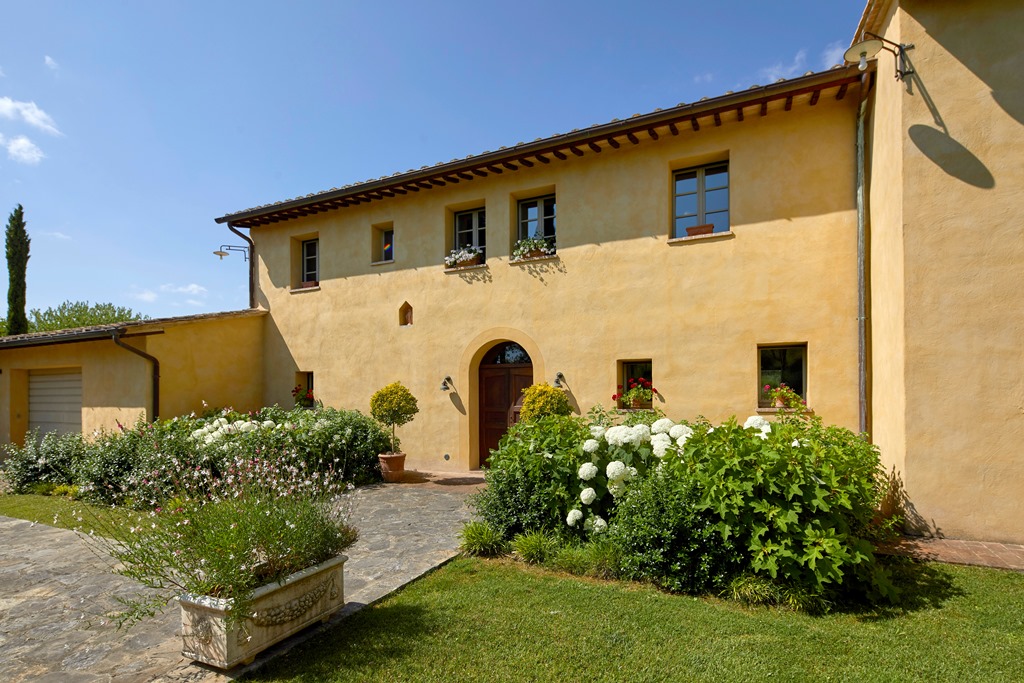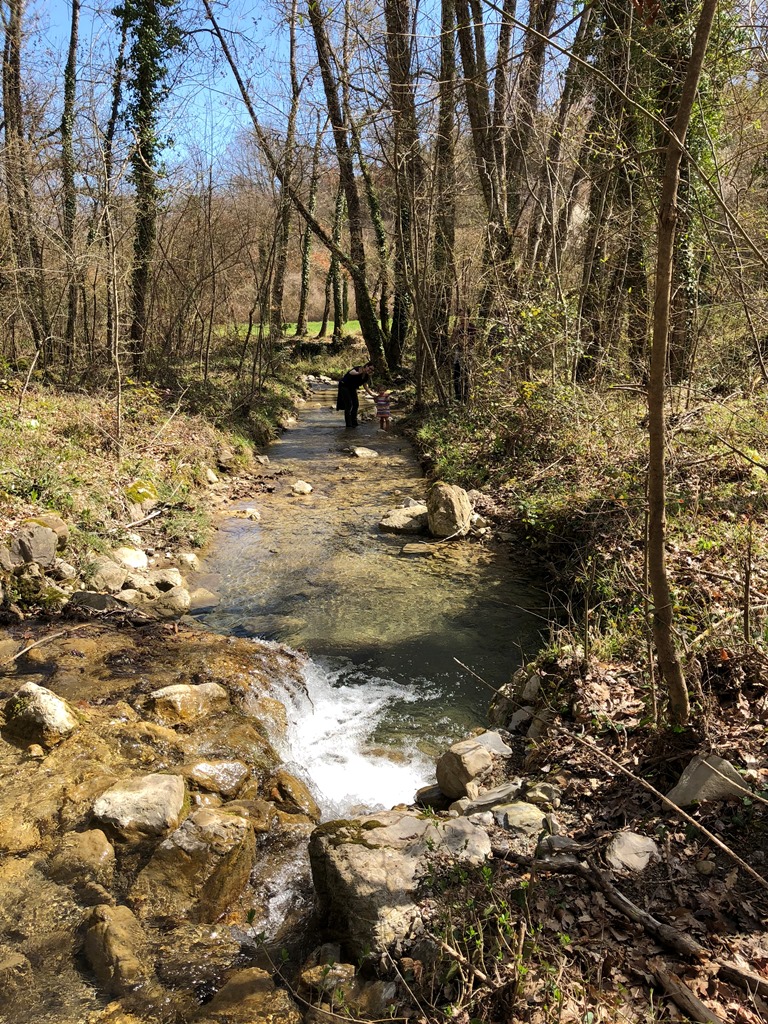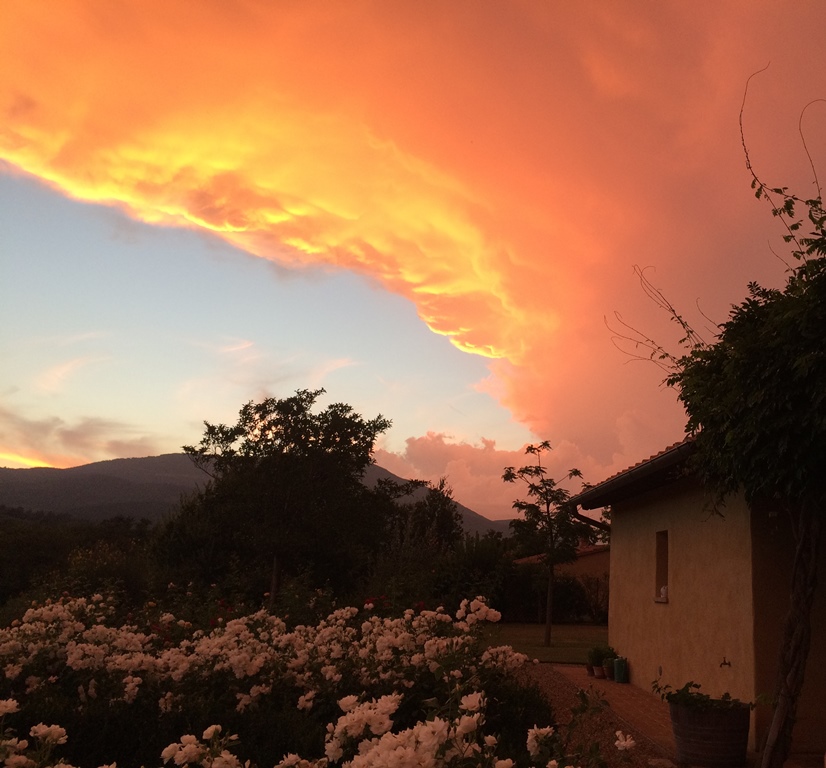 Euro 3,950,000.00